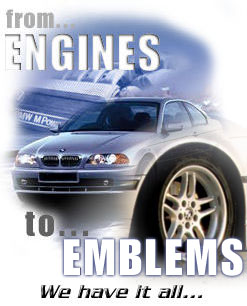 Bavarian Auto Recycling is your BMW Parts Specialist
We are one of the largest, most experienced, and most organized BMW recycling facilities in the world -- (over 10,000 BMW's dismantled). Although rebuilt and used BMW engines are our specialty, we also carry a huge inventory of used, new, and rebuilt BMW parts for most every BMW year and model.
Specializing in BMW's parts only
We offer you our vast inventory of used BMW parts at the lowest prices anywhere, saving you big on all of your BMW parts needs.
Whether you need a rebuilt engine or just a used window crank, we're here to help. Remember... when it comes to your BMW, our goal is to put you back in the driver's seat. And with over ten thousand BMW's dismantled for parts, that goal is a reality.
Putting you back on the road is only half the story. We know that keeping you there is just as important. That's why we offer you the best warranties and customer service in the business. Our standard warranties are longer and more comprehensive than any competitor, and we make customer service after the sale just as important as getting the sale in the first place - if not more important !
Experienced BMW Parts Experts
Our staff of highly trained BMW experts are committed to giving you the best possible customer service experience. Bavarian uses specialized BMW interchange data and advanced technologies to provide consistently accurate products and superior service. We use a state-of-the-art computerized order management system and exclusive APMA QC certification processes so you can be assured that we'll locate your parts fast and track your order every step of the way. Our goal is 100% total customer satisfaction.
Better data means better BMW parts
We use your vehicle's DNA (the VIN number and factory part numbers) to guarantee you get the exact parts to fit your application. No more wasted time on mis-matched BMW parts, application errors, and return/replacement delays.
More data means more BMW parts
We interchange and track 10 times more parts on every vehicle – giving you access to virtually every part on every car. This means less hassle and no delays waiting on dealer backorders for small obscure items. We stock over 500,000 BMW parts in 60 different part groups and over 2000 BMW part types. From engines to emblems – we really do have it all !
Thanks for taking the time and considering us to help with your BMW parts needs. We want to make Bavarian Auto Recycling your first choice whether your BMW needs major components or just maintenance items. Demand only genuine used & rebuilt BMW parts from Bavarian Auto Recycling. Doing the right thing -- for your BMW, your wallet, and for the environment. Call us today to get acquainted -- we hope to hear from you soon !